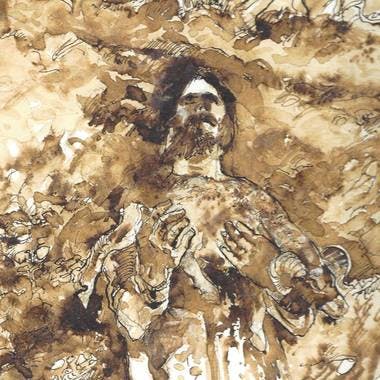 The Legend of Job in Art, Philosophy, and Psychology
Berlin
Hobrechtstraße 66 Berlin, 12047
Description
Join us in an exploration of the depths of the Western psyche and its Biblical roots in prophecy and Hebraic existentialism. 

Book launch: 'The Legend of Job' by Gerald Squires, art exhibition, and public lecture
Saturday, October 14, 19:00 – 21:00

'I Heard the Birch Tree Whisper in the Night', film by Kenneth J. Harvey about Gerald Squires
Sunday, October 15, 17:00 – 18:30


Since its composition in Hebrew in the seventh century BCE, the Book of Job has inspired countless interpretations in art, philosophy, and psychology. The story of the righteous Job arbitrarily tormented by God has long stood as an image of the human condition, an icon for the tragic sense of life. In 2015, acclaimed Newfoundland artist Gerald Squires, with calligrapher Boyd Chubbs, created the first illustrated edition of the book, a handbound manuscript illuminated with original watercolor paintings and lettered with exquisite calligraphy. Gerald Squires died shortly after The Legend of Job was finished. 

The variety of interpretations of the biblical Legend of Job are legion: Some have read it as a hymn to transcendence, others as an atheist manifesto. In a pivotal text in the history of psychoanalysis, Carl Gustav Jung argued that Job expresses the psychological tension created by monotheistic religions that insist on the absolute goodness of God. Evil, Jung writes, is a psychological fact, one that God himself is forced to admit when confronted by the protests of his faithful servant Job. In order to be psychologically adequate, the symbol of God must, therefore, include the shadow or dark side of the divine.

Gerald Squires, one of the greatest artists of Newfoundland and the recipient of numerous distinctions and awards, including the Order of Canada, worked in all media but is best known for his paintings, which range from surrealist to impressionist landscapes. 


Book launch 

At the opening ceremony, professor Sean McGrath of Memorial University of Newfoundland will speak of the philosophical, theological, and psychological significance of the Legend of Job. 

A copy of the book will be on display, along with reproductions of Squire's atmospheric interpretive paintings. The book and paintings will remain on display at Stillpoint Spaces Berlin for four weeks following the event. 

Sean McGrath, professor and head of the Department of Philosophy at Memorial University of Newfoundland, has published and lectured widely in the fields of philosophy, theology, and psychology. 


Film

Screening of the documentary movie about the artist Gerald Squires. Directed, written, and produced by Kenneth J. Harvey.

Awards that the movie has received so far: Nickel Independent Film Festival (the audience choice) and Regina International Film Festival (best Canadian feature film).

Kenneth J. Harvey is a filmmaker, journalist, photographer, and international bestselling author. His films have been screened at more than 40 festivals around the world. 

Trailer: https://www.youtube.com/watch?v=-z1TsLgUh8Q

Professor Sean McGrath will be present at the movie screening and available for the Q&A.