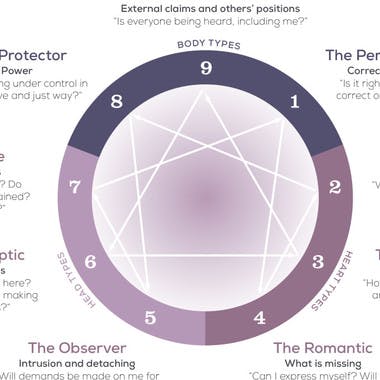 The Enneagram - integrating ancient wisdom and modern psychology
Zürich
Klosbachstrasse 99 Zurich, 8032
Description
The Enneagram is an ancient symbol. (Ennea means nine and gram is diagram in Greek.) It is best understood as a dynamic map of ego-patterns; a psycho-spiritual system that describes nine distinct character structures called Enneagram types. Your Enneagram type reveals unconscious motivations, fears, primary defence mechanisms and your unique path of growth. In our workshop, you will understand the basics of the Enneagram and practice some exercises. Through stories, poetry and interviews with people talking about their own experience of having a type, we invite you to delve into the lived experience of the Enneagram. And how the patterns feel in our bodies, minds and play out in our lives.

History and current usage of the Enneagram

The Enneagram symbol appeared in the Middle East and Asia several thousand years ago and it's knowledge was passed on through an oral tradition. Today, psychotherapists, spiritual groups, multinational corporations and even governments use the transformative power of the Enneagram across the world. As an Indo-Swiss couple, my husband Christof and I have been humbled by the universal quality of the Enneagram types as we've experienced it in the US, India and Europe.

When you learn how to recognize Enneagram type patterns as they arise in you, you can experience long- term, sustainable growth. Stanford Medical School Professor Late Dr. David Daniels elaborated on the neurobiological basis for the Enneagram - that the brain can be retrained once we can recognize and observe our patterns.

Remember that the Enneagram is not about putting people in a box, but discovering the box we already are in order to free ourselves.

About Yamini Deen- The Presenter:

I am a certified Enneagram trainer who trained at the Enneagram Association in the Narrative Tradition (EANT) in the US and with Enneagram in Business (EIB). I have used the Enneagram in many contexts including coaching, business training and social work. More significantly, the Enneagram continues to bring a richness, wonder and expansiveness in my relationships. In my eight years studying the Enneagram, I have learnt that its knowledge is literally limitless. I am currently a training candidate at the International School of Analytical Psychology in Zurich.

My other interests include postcolonial psychology and working with Hindu Goddess myths and their relevance for modern women. I have previously worked as a journalist and have co-directed a documentary film.

(I will be supported by my husband Christof who also studied the Enneagram and uses it in his work as a documentary filmmaker.)

No previous knowledge or expertise is required for you to attend.