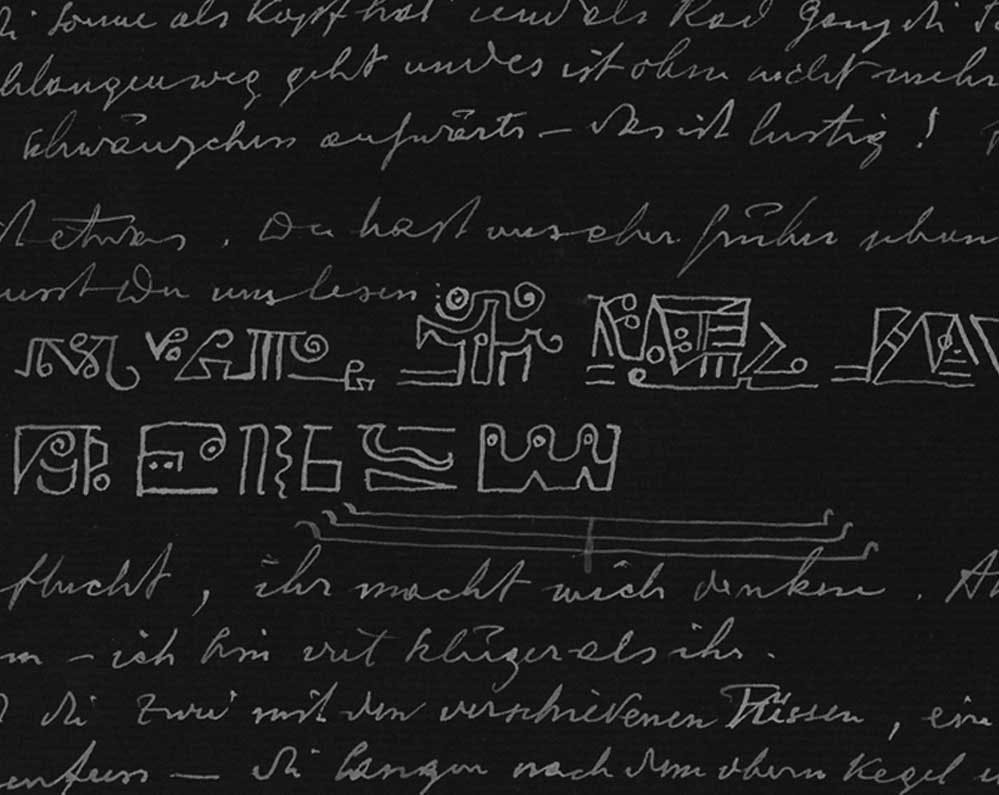 The Black Books by C. G. Jung
Online
6pm - 8pm GMT, 7pm - 9pm CET, 1pm - 3pm EST
Literature
Philosophy
Art
Psychoanalysis
Description
The Black Books present Jung's explorations of the visionary imagination between 1913 to 1932, his personal transformation and the making of analytical psychology. They chart his evolving understanding, showing how he sought to deepen new insights and locate them in real life experiences. The Black Books also enabled Jung's paintings post-1916 to be more clearly understood in the context of the evolution of the iconography of his personal cosmology.
In this conversation with Sonu Shamdasani, we will hear more about Jung's "inner conversation". The visions, fantasies and imaginations he recorded in the Black Books will be explored, together with the relevance of their publication to a contemporary understanding of Analytical Psychology.
Full programme
6pm GMT, 7pm CET, 1pm EST
An interview of Alessandra di Montezemolo with Professor Sonu Shamdasani on CG Jung's Inner Conversation with His Visions, Fantasies, and Imaginations
In an era of tweets, posts and soundbites, cultivating the art of conversation is essential. It allows space for a deeper and engaged reflection, a place where we allow our thoughts, our imagination, our feelings to emerge in the relationship with the other(s), and on a subject that is shared. As James Hillman says: "Good conversation has an edge: it opens your eyes to something, quickens your ears. And good conversation reverberates: it keeps on talking in your mind later in the day; the next day you find yourself still talking with what was said." (Stirrings of Culture: Essays from the Dallas Institute 1986, Dallas Institute Publications 2013).
7.30pm GMT, 8.30pm CET, 2.30 EST
Q&A, Comments and Sharing
8pm GMT, 9pm CET, 3pm EST
End
Speakers
Alessandra di Montezemolo is a clinical psychologist and Jungian analyst who trained at the CG Jung Institute in Zurich. She published articles in French and Italian journals (among which an interview to Prof. Sonu Shamdasani on the Red Book, an article on the relevance of Analytical Psychology for Italian Cinema and another on the founders of Psychoanalysis in Italy).
Alessandra speaks and works clinically in four different languages and as a multi-cultural psychoanalyst actively engaged in today's world, she is particularly interested in building bridges between humanities, social sciences, and the different psychological approaches. She joined the founders of Stillpoint Spaces (Zurich, Berlin, London, and Paris) in December 2016 as their partner for Paris where she opened the spaces in 2017.
Sonu Shamdasani is Professor in Jung History in the School of European Languages, Culture and Society (German) at University College London, and Vice-Dean (International) of the Arts and Humanities Faculty. He is the co-director of the UCL Health Humanities Centre. He is a historian of psychology and psychiatry, and his research follows two intersecting lines: reconstructing the formation of modern psychological disciplines and therapeutics from the mid-nineteenth century onwards, and reconstructing the formation of the work of Jung, based on primary archival materials.
He is the General Editor and Co-Founder of the Philemon Foundation. The Philemon Foundation exists to make available the complete works of C. G. Jung in editions that meet the highest standards of scholarship and do justice to the true measure of this major creative thinker. He is the author and editor of a dozen books which have been translated into many languages. Most recently, he co-edited Medical Humanity and Inhumanity in the German-Speaking World (UCL Press, 2020, open access) and Exploring Transcultural Histories of Psychotherapies (Routledge, 2019).
Tickets
Please book your tickets here
Stillpoint Spaces Members and Confer Members: £24
Self-funded:£30
Ticket includes a recording of the event with access for a year (14 days post the event).
Bookings close at 9.00 am GMT on Friday, 27th of November.
About the organisers
This is a co-produced event of Confer and Stillpoint Spaces Paris, a member of Stillpoint Spaces International.
Confer
Confer is an independent organisation established by psychotherapists in 1998 to provide innovative, challenging and inspiring continuing educational events for psychotherapists, psychologists and other mental health workers.
Stillpoint Spaces
Through psychotherapy, counselling, coaching, events, workshops, artist encounters, and more, Stillpoint Spaces offers a new way to explore psychology outside the consulting room.
Join the Stillpoint Spaces Community (it's free!)
Become a member of our free social network for professionals and the psychologically curious. On this network, we are creating the conditions for personal and professional growth, learning, engagement, mutual support, and positive change in our lives and in the wider world. Follow this link to sign up!
Disclaimer
Please note that the views, opinions, and values expressed by presenters, participants, or any other individuals in relation to this event are not necessarily those of Stillpoint Spaces. Our aim is to provide a respectful space for open dialogue between our presenters, facilitators, workshop leaders and those who attend. If you would like to ask questions or provide feedback, please contact us at contact@stillpointspaces.com.