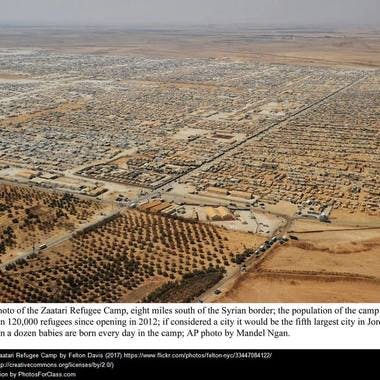 Syria: What Do We Need To Know About the Conflict?
Berlin
Hobrechtstraße 66 Berlin, 12047
Description
A lecture and fundraising event with Petra Becker

Many of us have been supporting men, women, adolescents, and children who fled Syria over the last few years. Still, most of us know little about what drove them to leave their homes and loved ones to seek refuge in Europe. Contradictory narratives, and the sheer number of local, regional, and international players, make it difficult to understand how Syria devolved from a celebrated tourist destination to the pandemonium we witness today.

Petra Becker has witnessed the developments firsthand. She had lived in Syria for 14 years, when she left her Damascus neighborhood in 2012, fleeing the clashes between the Syrian army and rebels. She witnessed the lack of perspectives for young people before 2011, then the hope, the outbreak of freedom and creativity at the beginning of the Arab spring and after all she saw the peaceful revolution first be driven into violence and then turning into a multilayered proxy war.

After years of contributing to the analysis of the conflict she now started an NGO supporting children and adolescents who fled the conflict. She is convinced that few people will be able to return to Syria during the next years so the core question remains:
How can we best support people, who escaped this nightmare, to move on?

Petra Becker, M.A. in Islamic, Political, and Social Sciences, was living in Syria for fourteen years and analysed Syria as a research fellow for Stiftung Wissenschaft und Politik until 2016. She is the founder of the Education Project "Back on Track," which provides support for refugee children from Arabic-speaking countries. 

Support "Back on Track" with an online donation: www.startnext.com/back-on-track.