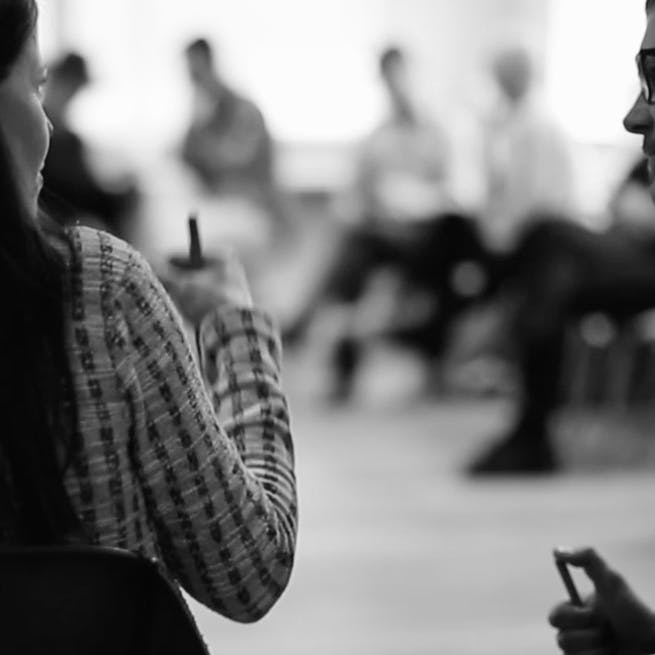 Stillpoint Spaces London Anniversary 2019
London
Stillpoint Spaces London, 23 Clerkenwell Close London, EC1R 0AA
Literature
The Self
Identity
Society
Description
Join us for our second anniversary event at Stillpoint Spaces London!
On Friday 15th March PHILIPPA PERRY will be tackling the psychological subject of Why Are Other People So Awful?, followed by an informal Q&A session with the audience. We often think other people, or we think we ourselves, are awful. It's as if someone has to be, and we might be convinced about it. Why is this, and do we want to do anything about it?
___
On Saturday 16th March we will be holding a free open house for all, from 2pm-6pm. This will include a set of short talks on psychology-focused subjects, chance to chat to active members of the Stillpoint Spaces London community, the second iteration of our innovative public invitation to speed date our psychotherapists, and the opening of our very first group exhibition: MEME. (full exhibition details here)
SCHEDULE:
2-3PM SPEED DATING THERAPISTS – Session 1
Short meetings with a selection of the Stillpoint Spaces London talking therapists, to find out how they work and if they might be suited for yourself or a loved one. These aren't mini therapy sessions, but they are a chance to meet therapists, at no cost, in a less formal environment than usual. Participating therapists include:
RAF GOOVAERTS | TAMARA ABOOD | FLANDINA RIGAMONTI
HELEN CORDERY | OLIVIER DROILLARD | ALEX HEGAZY | MELISSA DUNLOP
3PM SHORT TALK Julie-anne Edwards 
Overstretched and Overwhelmed: Thoughts on managing work-related stress
According to the Health & Safety Executive, in the UK 11million days a year are 'lost' to work-related stress, and the TUC warns that this an 'epidemic'.  But behind the headlines, how does it feel when you are struggling to cope at work, and how can you begin to make sense of those feelings?  This short presentation aims to move beyond stress-management toolkits and look at workplace anxiety from a personal perspective, by way of a psychotherapy case study.
3.30PM SHORT TALK Rohan Naidoo
Individuation: A process of becoming yourself
New Year's resolutions, diets, pay rises, gym memberships and enlightenment… just a few manifestations of our inalienable and oft unconscious drive for self-growth, personal development. But how can self-development be approached from a psychological perspective? The Twentieth Century Psychologist Carl Jung provides a way in through his concept of individuation, an idea briefly introduced in this talk via a pop culture illustration of it found in Lord Of The Rings.
4-5PM SPEED DATING THERAPISTS - Session 2
5PM SHORT TALK Sissy Lykou
"The only good neighbour is a dead neighbour!" - Slavoj Žižek: Can multicultural societies ever exist?
In today's world where walls are built to keep people out, popular referendums define the future of movement between countries, and religious groups compete for political dominance, Žižek's slogan challenges us to reflect on our personal responses to the 'difference' a neighbor often displays. 
5.30PM SHORT TALK Marielle Albers 
Art as a Bridge to Therapy: using creativity to connect
In psychotherapy, the relationship between client and therapist is often quoted as the thing that heals. However, for some people, the idea of forming a 'relationship' with a stranger in a room can be enough to put them off the idea going into therapy altogether. This short talk will illustrate how using 'art' or creativity can form a bridge to communicate our feelings, even for those with no artistic talent.