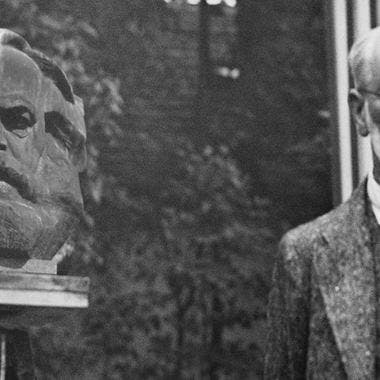 Negotiations of Self: Marx and Freud in the Twenty-First Century
Berlin
Hobrechtstraße 66 Berlin, 12047
Description
Symposium with Bradley Williams.

With the rise, in recent years, of populism worldwide, many are looking to psychology and radical politics for answers to today's instability. Through a close look and discussion of some of the fundamental writings and intersecting ideas of Karl Marx and Sigmund Freud, we approach the question of how best to restore and protect the self in the context of twenty-first-century precariousness and alienation. 

Mondays (August 7, 14, 21, 28), 19:00 – 20:30

1. Monday, August 7
Introduction to Freud and Marx: Where they agree, where they differ, where they were right, where they were wrong, and what it means today.

We will introduce and discuss the key ideas of Freud and Marx regarding Subjectivity within Society and how each thinker's approach to this topic shapes our understanding of Self in the nineteenth and twentieth-century contexts.

2. Monday, August 14
Marx: Theses on Feuerbach and the German Ideology

What is Truth? What is Rigorous Thinking? What is meaningful political action? We will perform a close reading of sections of Marx's Theses on Feuerbach and The German Ideology while exploring their relation to political developments in 2017.

3. Monday, August 21
Freud: Civilization and Its Discontents and the Future of an Illusion

What can Freud's Civilization and Its Discontents, written about the early twentieth century, tell us about discontent in the twenty-first century? Likewise, Freud took a hard look at the future of religion through the book 'Future of an Illusion'. Is the rise of populism worldwide a reaction to the rise in Societal Discontent and Atheism? This session looks at what has changed and what is the same from when Freud originally published these two works in the late 1920s Interwar period.

4. Monday, August 28
Radical Psychoanalysis: Discussion of applications of Marxist and Freudian ideas in today's political and technological context

The world is in great pain. It needs healing. Marx's and Freud's ideas both dealt with how to heal the subject within an oppressive society. After a brief overview of the ideas from the past three sessions, we'll talk about how these ideas can be practically implemented on a personal, communal, and societal scale in a globalized and connected world where alienation and scarcity are surging. 

Facilitated by Bradley Williams, a social researcher focussing on prison reform and radical community psychology

About the format
Symposium: Format consists of a forty-five-minute lecture, followed by discussion, followed by proposals for reading material for the next session. We are curious to find out more about your perspective on the topic and want to provide space for you to take a more active role.