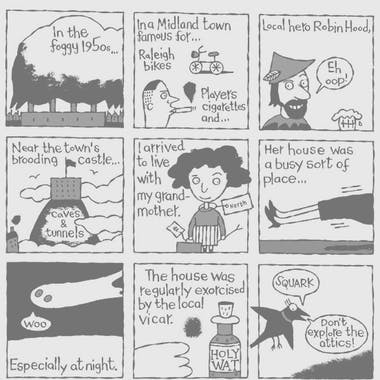 In the Frame: your memoir in a comic strip
London
Stillpoint Spaces London London, EC1R 0AA
Description
Author and comic strip artist Sally Kindberg will be in The Lab to lead a playful and creative workshop for all to take part in.

Turn your life into an insightful narrative using words and pictures in this fun and informative introductory memoir workshop.

Look at work by comic strip/graphic artists, and gain confidence in your skills by taking part in a series of short, simple and enabling exercises, with plenty of room for collaboration and discussion.

At the end of the workshop you'll have increased confidence in the concept and expression of your narrative, and may want to continue developing new and surprising skills.


Sally Kindberg is an author/illustrator/comic strip artist and workshop facilitator.
Her books include the Bloomsbury Draw It! series and The Comic Strip History of Space. She has worked as a travel writer for newspapers and magazines, drawn comic strips for CBBC, is currently working on a project for Swedenborg House and a graphic novel. She is founder and curator of a Museum of Dust, and has just been offered a Royal Literary Fund Fellowship for 2018.