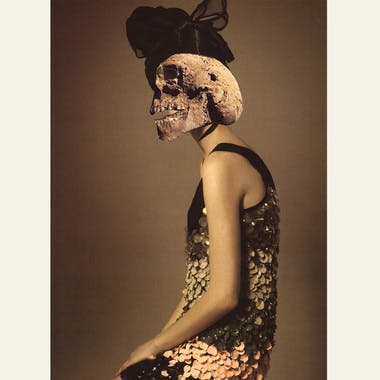 Hello, Death. (An Open Discussion)
Berlin
Hobrechtstrasse, 66 Berlin, 12047
Society
Culture
Psychoanalysis
Description
From Gilgamesh to Harry Potter, from Jesus to Kurt Cobain, Death has been the oldest motif in human stories — in myths and in news alike. For as long as we've told stories, Death has frightened us, disturbed us, grieved us, as it has strengthened us, inspired us, uplifted us. But for most of us, Death seems more an ancestral acquaintance rather than a familiar face. Living in the heart of Western Civilization 2018, amidst the nest of health insurance, public sanitation, and safety regulations, Death seems distant, figurative, optional. Meanwhile, our governments, our news media, and our artists continue to trade on the Grim Reaper's tokens. Perhaps it's time — not that time — perhaps it's time we talk about Death.

Death™: the Extended Cut
Today, safe for those born in the "less fortunate" countries, we experience Death more on Netflix than in our mortal lives. Is our media portrayal of Death sensationalising, sanitising, or both? Does our exposure to fictional or journalised Death prepare us or distract us from the grand eventuality? What would you like to see instead?

Death: the Great Font of Meaning(lessness)
We have painted caves, written epics, and founded religions around and about Death. It's the theme that unifies East, West, North, and South, the cutting edge and the distant past. As we speak, the transhumanists are gaining steam in their campaign to end Death, while the monks and priests continue to preach acceptance and embrace instead. Without delving into the metaphysics: is Death the Gift that they promise or the Curse they claim? Is Death what gives us Meaning — or is it what deprives us of Meaning?

Death, You, Me, and Death
Unless the transhumanists have it: in the end, it's the end — be it The End, or just an end. However you'd like to look at it, it's there waiting for you. So how have you been acquainted with Death? Not conceptually, not figuratively, but intimately and directly: What role has Death played in your life? How has Death shaped how you live? And where is Death in your life now?
Join us on Thursday,9th of August 2018 at 19:00for our monthly Psychoanalysis on the Street Meetup to participate in an open discussion and share your thoughts, learnings, and stories about Death.

About the facilitator:
Ulysses Narais a writer, entrepreneur and Stillpoint Community member with a background in media and philosophy. 

About the format:
Psychoanalysis on the Street is an open-discussion meetup for people interested in psychology, culture, and the arts. Our aim is to bring psychoanalysis out of the consulting room and to give individuals from all walks of life an opportunity to engage with the exploratory energy of depth psychology. No background in psychology is required.
Image copyright:
Jorge Chamorro
http://jorgechamorro.es/