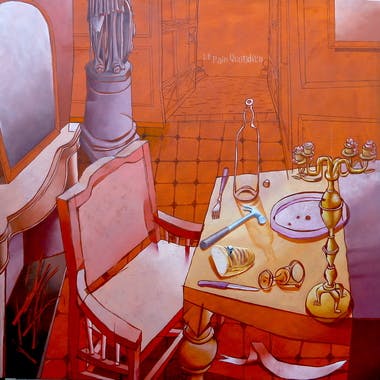 'Finissage'
Zürich
Klosbachstrasse 99 Zürich, 8032
Description
Stillpoint Spaces Zurich is happy to invite you to our last event in Klosbachstrasse; Finissage by Piero Lagonigro. This will be an opportunity to view Piero's works and be introduced to their context by the artist himself, as well as enjoy a live acoustic guitar performance by Juan Carlos Zeta, a chilean latin music singer and guitarist, who works closely with Piero.
This will also be an opportunity to celebrate the memories we have created at our Klosbachstrasse space, hosting events where our community could flourish by sharing ideas, learning, and connecting to each other. 
 *From September 1st, we will be consolidating all of our activities at our Lavatestrasse 75 space.
Piero Lagonigro: "Considering that my work is not part of my life, but actually is my life, one can understand the variety of its theme. My art is a reflection of all my experiences and emotions in relation with the Human Factor, particularly the existentialist and poetic aspects of life, I see my paintings as boxes or drawers into which I place this diversity of what we call Human nature. Moreover, I strive within each piece to transcend my own perspective and circumstances, and to communicate with a language with which I hope to capture the very Poetic essence of the situation, subject or dynamic. In this way, my desire is that the real dialogue exists not only between my paintings and me, but between my painting and the viewer. Contemplation is the key."
PIERO LAGONIGRO was born in Mexico City. At an early age he moved with his family to Rome, Italy, his father's country of origin. That was the beginning of a migratory life with chapters of residence in many places in the USA, Europe and Mexico. This pluralism has endowed Lagonigro with a rich heritage and multitude of possibilities. Mainly self-taught, his style of expression combines elements of Modernism, Metaphysics and Magic Realism - it explodes with colors and is driven by his own personal history and a Humanistic view of his environs. With each piece he strives to unlock the mystery of the Human spirit. Art web: www.lagonigro.com 
JUAN CARLOS ZETA, chilean latin music singer and guitarist, writes and performs songs about passion, roots and the difference in expressing emotions.