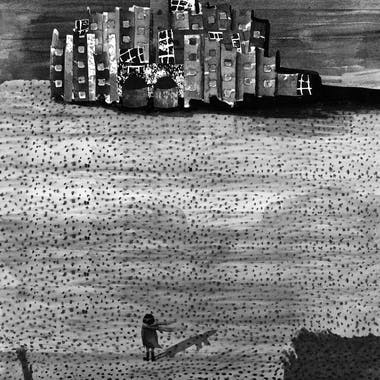 Eve's Dawning
London
Stillpoint Spaces London London, EC1R 0AA
Description
We are continuing to celebrate our relationship with the practises of theatre, art and music here at Stillpoint London, with this unique and special performance.

'Eve's Dawning' combines storytelling, live music and animation to tell the dystopian fairy tale of Eve, the last girl in the world, as she navigates a post-apocalyptic wasteland. Eve's fate unfolds as she experiences loss, betrayal and strange joy, before finding an unlikely companion in the form of a straight talking and highly persuasive fox.

Playwright Joel Samuels, singer/songwriter Lydia Samuels and artist Jeanine Moros-Noujaim invite you to Eve's kaleidoscopic journey. Accompanied by a dreamy live soundtrack spanning multiple genres, from folk to doo-wop and punk.

The performance will be followed by psychotherapist and author Kamalamani drawing on themes from 'Eve's Dawning'. Inspired by the highly persuasive fox and the Zen notion of 'wild fox spirit', she will set them in ecopsychological context, with time for group discussion and sharing.