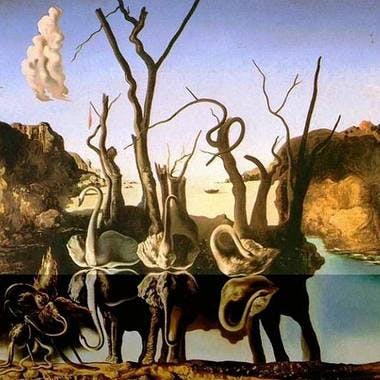 Contemporary Psychoanalysis: Vigil in the Wilderness of Mirrors
Berlin
Hobrechtstraße 66 Berlin, 12047
Description
What other than fair-time fun can distorted mirrors add to the human experience? What do you learn about yourself when facing another person? How can one be sure to whom the image belongs? Is there any hope for change if you dislike what you see?

The obvious answer to a question "What do you see when you face a mirror?" is "one sees oneself". But there is something more. Human cultures have always been fascinated with reflections. In mythology, mirrors and reflections are the core of conflict (as in the Myth of Narcissus) or salvation (escaping the gaze of Gorgon-Medusa by looking only at the reflection). In folklore or fairy tales mirrors are magic 'doors' to the unknown. 

What does the baby see when he or she looks in the mirror? Developmental cognitive psychology reveals that the answer depends on age, culture, and the species. A well designed experimental setting has proven that self-recognition is established within the second year of life for most humans.

Psychoanalytic tradition is adding to the complexity of the issue through a different question: "What does the baby see when he or she looks at their mother's face?" In the year 1967 Donald Winnicott published a paper "Mirror-Role of Mother and Family in Child Development" claiming that the mirroring function of the mother is vital for healthy development. Later on, Daniel Stern has introduced the distinction between mirroring, echoing, and attunement. More recently, Peter Fonagy has developed a therapeutic approach starting from a mentalization-based understanding of marked mirroring and its' implications for affect control and mental health. 

In this lecture, we will have a chance to learn about the way in which contemporary psychoanalysis has helped us bring together the insights from clinical practice, infant research, studies of the psychotherapeutic process, and neurological evidence of the existence of mirror neurons. Through the process of understanding of early parent-child relation, we will uncover the path of self-formation.

Facilitated by Camellia Hancheva, Ph.D., psychodynamic and systemic psychotherapist. Camellia started her career as the first psycho-oncologist in Bulgaria, working on topics of loss and mourning from a psychodynamic perspective. She is an assistant professor, specialized in the topics of child development and family relations, with a keen interest in inner reality, conflicts, and representations. Her recent professional engagements are in the sphere of interactional psychoanalysis and implications of early mother-infant relation on an understanding of the psychotherapeutic process.

Cover Photo: Dali "Swans Reflecting Elephants"