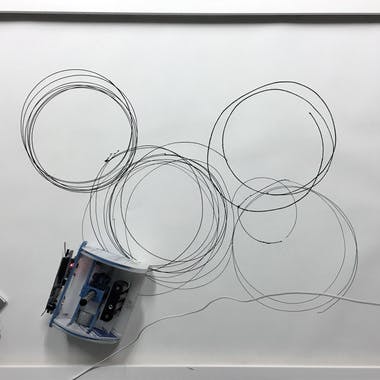 Can a Robot Become a Desiring Body?
Berlin
Hobrechtstrasse 66 Berlin, 12047
Description
According to the French writer and philosopher, Georges Bataille, desire is a transgression of a law. Etymologically, to transgress means to cross over. For Bataille, transgression, therefore desire, meant a move from a rational state of order to an irrational one. This lecture and performance will first ask the question whether it is possible to embody desire into algorithms which, in turn, would express the transgressive nature of desire as an artwork.
When we talk about desire, we don't necessarily mean human desire, but rather a becoming conscious of "striving to continue to exist", as expressed in Spinoza's term conatus. The question then would follow: can an algorithm become conscious of its "own" desire to exist?
An algorithm is defined as a set of predefined rules. It is hard to imagine those rules being broken, without breaking the algorithm itself, and even more so, that they can become conscious of the need to continue to exist!
During this performative lecture on artificial intelligence, artificial consciousness and artificial desire, the speaker will be at the same time connected to a robot, which traces circles on a piece of paper, sensing the speaker's excitement, anxiety or any physical response, and expresses them as data through deviations from the perfect circle. The final question of this exploration is: can a robot become a desiring body?
Lecturer:
Dario Srbic, is an artist and a PhD candidate at Royal College of Art, with his transdisciplinary research situated across the fields of biometrics, artificial intelligence, philosophy, and parametric design. His practice seeks to embody desire and ethics into machine learning and express those in algorithmically generated sculptures and performances as a counteract to the relentless exploitation and control of sentient beings by algorithms.
Image:
Dario Srbic