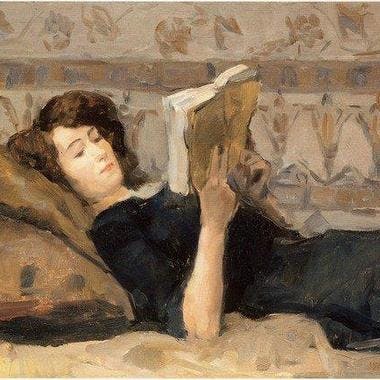 Beyond Diapers Book Club
Berlin
Hobrechtstraße 66 Berlin, 12047
Description
A top three complaint of parents is that of porridge. Not the oatmeal kind, like you'd expect, but the cognitive kind of porridge: A postnatal mental state that is as mushy as baby food and with no time to remedy. 

That's why, once a month, the Beyond Diapers Book Club will cater to all those porridge and diaper distracted brains by making room for and filling them instead with poetry, short stories and parts of novels with the aim of starting lively and challenging discussions. 

So bring along your babies and your slow and rusty brain and get as wired as you wish on coffee and inspiring literature.

In the third book club session we'll be discussing this excerpt from the stunning book by Maggie Nelson called The Argonauts: http://www.kcrw.com/news-culture/shows/bookworm/maggie-nelson-the-argonauts/excerpt-from-the-argonauts

Place: Reuterplatz

Picture is of the painting 'Reading Girl On A Sofa' made 1920, by Isaac Israels.