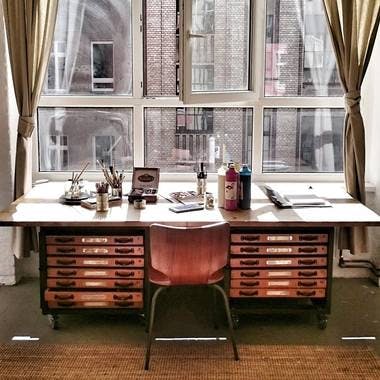 Art Therapy - Process Group with Nitya Ramchandran
Series: 01-12-2017 - 22-12-2017
Description
"A theory or conceptualization of art therapy that has served us well has been that of the triangular relationship. This notion arises from the idea of therapists working with art mediums and can be looked at in various ways, for example, the triangle of image, client, therapist, or image, conscious, unconscious. It has been most useful in distinguishing art therapy from other forms of therapy, particularly verbal ones. One could say that it has an outer-world function, while also offering a conceptualisation of the inner world with the idea of the image being communication or medium between inner and outer worlds of the client. Another triangle might be that of mother, child and transitional space, art and culture arising originally from transitional object phenomena (Winnicott, 1951). Wood describes 'a triangulation around the potential space', how painting in the presence of the therapist alters the intention and the dynamic balance of someone painting alone: dyad becomes triad (Wood, 1984)."

Case, C., Schaverien, J., & Killick, K. (2011). The changing shape of art therapy: New developments in theory and practice. Jessica Kingsley Publishers.

A new art therapy process group will start at Stillpoint Spaces Berlin. This group welcomes everyone interested in learning about themselves through the revelatory process of art making and subsequent reflection. It will be offered bi-monthly in an intimate setting of four to six regular participants. It is not necessary to have any artistic experience.

On the 1st, 15th, and 22nd of December, from 15:30 to 17:30h, we invite you to join two introductory sessions. After these three meetings, a new process group will be formed. Due to the nature of the process group, it is mandatory to have participated in at least one introductory session.

Nitya Ramchandran is an art and body psychotherapist at Stillpoint Spaces Berlin with a keen interest in ecological issues.