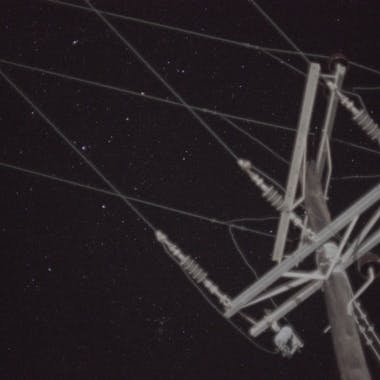 Après-Garde: Video Screenings with Live Music
Berlin
Hobrechtstrasse 66 Berlin, 12047
Description
In this event, four visual artists that work with video and four musicians will show their collaborative works. The collaborations offer a contemporary version of a practice common in cinema's pre-sound era, in which silent video's that often refer to subconscious undercurrents are paired with live music. The music offers an accompaniment to the visuals in which atmosphere, movement and material are contrasted and amplified.

Much like early cinematographers, the represented artists try to play with and reinvent the language of cinema and new media, rather than conform to the existing aesthetics of time-based arts. Firmly rooted in the distant past but from a contemporary point of view, they merge romantic darkness, early avant-garde and contemporary electronics into an eclectic and digitized whole.

The program will be presented in two sessions on Saturday, 10th of November, 2018:
First session starts at 19:00h
Second session starts at 21:00h
Participating Artists:
Jorgos Loukakos (GR) & Bjørn Svin (DK) 
Daniele Bornino (IT) & Marlais (UK) 
Marc Philip van Kempen (NL) & Marta De Pascalis (IT) 
Tamara Beyrouti (FR) & Alessandro Salerno (IT)
Jorgos Loukakos studied photography in Athens at the European School of Photography (ESP) and in Prague at The Film and TV School of the Academy of Performing Arts (FAMU), and Fine Arts at Gerrit Rietveld Akademie in Amsterdam. Currently, he lives in Berlin. His work is a continuous experimentation on the cinematic form by other means (video, installations, photography). Recent shows include Invitation to Love, Stillpoint Berlin and Out of Mind at Galerie die Schöne, Vienna and the Austrian Cultural Forum in Istanbul.

Bjørn Svin is a Danish composer and techno-artist living in Berlin. His output includes Bjørn Christiansen (Stranger than Paradise Records 1995), Mer strøm (1997) and Benene på Nakken (1999) Both on April Records, as well as the highly acclaimed Browen (2010, Rump Recordings). At present, his music unifies a dark and futuristic timbre with playful rhythmical expressions ranging from the repetitive to the more cinematic and abstract. His latest project is Silicium, where he performs his music as a hologram.

Marc Philip van Kempen studied Fine Arts at Gerrit Rietveld Akademie and New Media & Film History at the University of Amsterdam. His work encompasses a variety of forms such as photography, life-sized handcrafted diorama's and video, and deals with the relationship between virtual images and their surroundings. His work is currently on show in the Fries Museum in the Netherlands and in the form of a permanent piece installed in Lobe Block, Berlin-Wedding.

Marta De Pascalis is an Italian composer-musician living and working in Berlin. Her solo works employ analogue synthesis and tape loops, incorporating free playing into steady repetitive patterns. She has produced two albums of Berlin School minimal synth excursions: the self-released Quitratue (2014) and Anzar (The Tapeworm, 2016). Her new piece 'Her Core' has been published in spring 2018 by The Wormhole. Marta creates densely layered collages of glowing melodic shards and growling bass lines, her hypnotic minimal synth figures warping and whirling around each other before dissolving into entropic oblivion. For her compositions, she uses improvisation on a tape loop system, in which patterns of repetition create a sense of a dense, dynamic and cathartic distance.

Daniele Giuseppe Bornino is an artist and cinematographer from Rome, currently based in Berlin. His work focuses on the manipulation of moving images through various media and techniques. After the studies at the Academy of Fine Arts in Rome, he started producing video installations and performances, exploring the concept of 'expanded cinema'. In particular the interaction between live play and video scenography. He also worked as a cinematographer in the Italian film industry, for productions such as Cattleya, Rai Cinema and Taodue. He took part in several group and solo exhibitions, such as "Wir berschreiten den Rubikon" at Ostrale (Dresden), "Indipendents" at Arte fiera (Verona), and "To die faster than without water" at Sincresis artSpace (Florence) and Hybrida Gallery (Rome). 

Marlais is the stage name of Michael Culme-Seymour whose musical work is influenced by various forms of folk music from around the world, particularly the folk music of England & Ireland, experimental compositions and transcendental journeys through ambient electronics. His efforts in combining these various forms of music produced the 2016 self-released album 'Warm at Last'. Marlais is also one half of 'We Just Met' on Berlin Community Radio, a show that has been running for over 5 years. He is joined on stage by Saxophonist Daniel Fairhurst, who has been a longstanding band tour member of Ninja Tune's Romare.

Tamara Beyrouti is a filmmaker based in Berlin who is attempting to fusion her love for experimental film and for music, within an ecological context. She has self-produced short films with different artists and is currently undertaking her first feature documentary about music and landscapes in Palestine. She portrays (un-)natural landscapes and soundscapes in a way that attempts to help us understand the ecosystems that surround us in a different way

Alessandro Salerno is an Italian artist living in Berlin for seven years. He made noise and radical improvisation and roamed at the fringe of experimental jazz for over 15 years, mainly using a classical guitar. Now he is interested in developing a syntax out of cheap electric machinery and mistakes. He played with many wonderful musicians who seemed to enjoy the collaboration throughout the years. He likes intensity, deep frequencies, sounds that are difficult to identify and that will often remind you of some kind of insect activity, smelly cheese, and he growls tunes from Meshuggah when feeling really happy.